AT&T iPhone6 Upgrade: 2-Year contract vs. Next plans
If you are getting ready to upgrade to iPhone6 through AT&T, you might be in for a surprise or two. The first surprise is that back in July of last year, AT&T changed its phone upgrade eligibility date from 20 months to 24 months.
Using a 2-year contract option, this change most likely means that you did not qualify for an iPhone6 pre-order last Friday, and will probably have to wait till after September 19th's official release to place your upgrade order. If you are not willing to wait, you can pay AT&T an upgrade surcharge ($40 if your upgrade date is later this month) to upgrade immediately.
Alternatively, you can take a completely different route, and go with a Next 12 or Next 18 installment plans and forget about service contracts and early termination fees altogether. At first glance, it's pretty hard to follow AT&T's case for the Next plans.
In this post I will present my own calculations and conclusions pertaining to different scenarios when either a 2-year contract or one of the two Next plans works better. Since Samsung Galaxy S5 is offered at the same price as iPhone6, these calculations will work for all of the Android lovers out there as well.

What are the AT&T Next plans?
My understanding of AT&T's Next plans is that they are installment lease-to-own plans. With these plans, one can exercise an early phone trade-in option (leasing), or keep the phone longer and completely pay it off in the process. In addition to intangible benefits of early phone upgrades, both of the Next plans come with some measurable benefits as well:
* $ 15 monthly discount with a data plan under 10GB, or a $ 25 monthly discount with a 10GB or higher data plan.
* No down payment, waived activation, or upgrade fees.
* No early termination fees after paying off phone balance.
Summary of service plans:
Next 12 plan gives you an option to upgrade to a new phone in 12 months, or own your phone outright in 20 months, with a $ 32.50 monthly installment for iPhone6.
Next 18 plan gives you an option to upgrade to a new phone in 18 months, or own your phone outright in 24 months, with a $ 27.09 monthly installment for iPhone6.
2-Year Contract comes with a $ 199.99 price tag on iPhone6, one-time activation charge of $ 40, potential upgrade surcharge, and hefty early termination fees, should you choose to switch providers.
Comparison of service plans
I will start by stating that AT&T's service plan comparison of 12 month period does not make sense for a 2-year contract option (contract term obligations, phone resale value, original phone cost amortization, and other factors.) Below is my attempt for a more accurate, 'apples to apples' comparison between these plans, using the same assumptions, but a 24-month period instead. In addition, I included calculations for the larger discount on 10GB data plans or higher.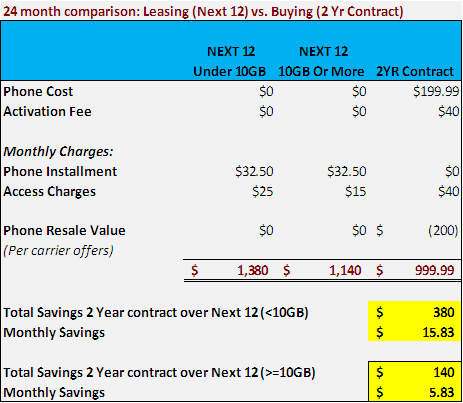 It shouldn't come as a surprise that one has to pay a monthly premium ($ 15.83 to be exact) for the privilege of early phone upgrades. This premium decreases by $ 10, if you find yourself in need of a 10GB or higher data plan, and thus eligible for a more generous monthly discount.
If you choose to hold on to your phone for 24 months on a Next 18 plan, you will only pay $ 50 more over a two-year period, than choosing the contract route. 10GB or higher data plan discount would save you $ 190 over two-year period comparing to the contract: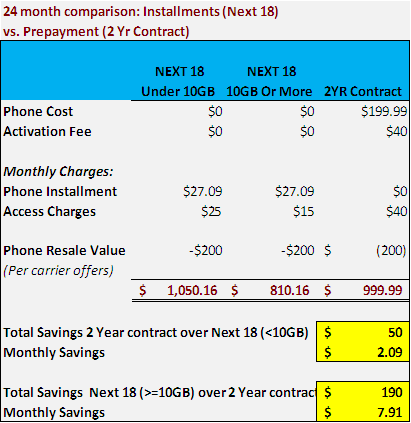 If you really want to save money, than staying on either Next 12 or Next 18 plan for over 27 months will save you $ 15 – $ 25 monthly comparing to a contract price. Running the numbers for both: Next 18 and Next 12 plans shows absolutely no difference in total costs at the 24 month mark and beyond (disregarding early upgrade options.):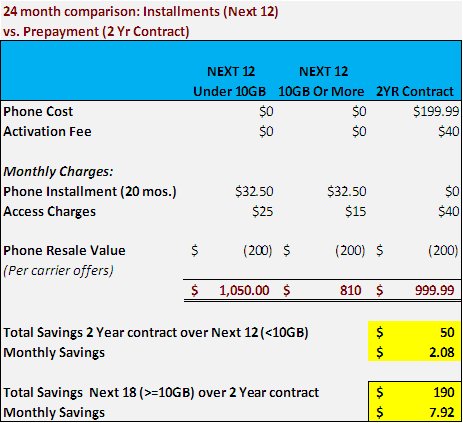 Which plan should you choose?
Get a Next 12 plan if you want to get a new phone every 12 months and don't mind paying extra for the privilege.
Choose a 2-Year contract if you plan to upgrade to a new phone in exactly 24 months.
Sign up for either Next 12 or Next 18 plan, if you can wait over 27 months for your next upgrade.
Picking Next 12 or Next 18 plan, is most likely a no-brainer for someone with a 10GB or higher data plan.
Additional considerations
Next plans do not offer phone insurance coverage, if your phone is damaged, you will not be able to upgrade to a new phone.
Get a $ 100 > bill credit promo through September 30, 2014 with a NEW service line on a Next plan (upgrades are not eligible.)
SlideShare version of this post.
Photo credit Brett Jordan via Flickrand photopin cc